Uzina Lighthouse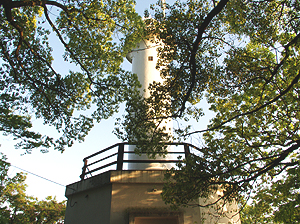 2003.5
No.118
Hiroshima Prefecture
Lighted Jan.1950
7,300cd. 13.5NM
Elevation 46m

This lighthouse is located in the entrance of "Hiroshima" port.
"Hiroshima" has the history that is the misfortune that
an only "atom bomb" was dropped in the world.
In 1971, adapted itself to reconstruction of Dengta and rotary machines were installed
and became current form.
The sixth class lens used in a source of light is made in France of 1895.