Sada Cape Lighthouse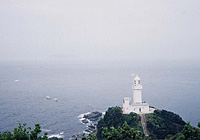 1998.5
No.4
Ehime Prefecture
Lighted Apr.1.1918
460,000cd. 19NM
Elevation 49m

"A sada" peninsula has about 50km full length.
However, width has only several kilos.
A highway running through a peninsula in east and west is good scenery.
There are some restaurants for the middle of a road.
This area has abundant fishery products.
Under a lighthouse, there is a cave of a battery sites of a fortress.
In this whole area, an entry of a commoner was forbidden in wartime.