Katuura Lighthouse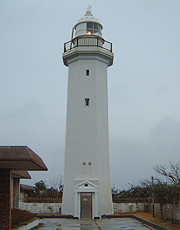 2002.11
No.109
Tiba Prefecture
Lighted Mar.1.1917
140,000cd. 22NM
Elevation 71m

It is the "Katsuura" fishing port which is famous for fishing of a bonito.
It was usually a lively place, but was quiet when we visited it.
I heard a road to a lighthouse to a woman of a shop.
She taught it kindly.
There was a gate in front of a lighthouse
and therefore was not able to bring us close to it to a lighthouse.