Kashiwa-shima Island Lighthouse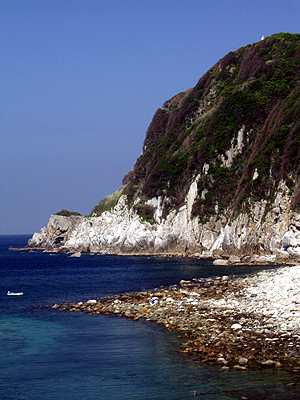 2005.5
No.236
Kouchi Prefectur
photo-1 photo-2

Kashiwa-shima Island is a small island of about 4km circumference to float on a southwest edge
of Kochi prefecture.The island is connected with main island at two bridges, and I can look at
an Oki-no-shima island and the Ugura-shima island in the distance.That is the rich sea where
there are about 1000 kinds fish.This island attracts attention from the Japanese inside as a spot of
scuba diving and fishing.
A lot of people visit this island to enjoy sea bathing and a camp in summer.
In Kashiwa Island, people open one part in a fishing port near a bridge as camp space.
Transparency of a peripheral sea area of a port takes it easy by a holiday while enjoying sea
bathing nature to the full highly attract it to spend it.
I visited this island in May. Therefore there was not the turnout such as summer.However, I caught
a lot sight of a young man aimed for scuba diving.I parked a car on the side of a road
and asked a local people the road which go to a lighthouse.There seems to be a road from
elementary school neighborhood.I went ahead through a shown road.However, there was a bush,
and it was impossible to advance.I was very disappointed, but beauty of the sea saved me.
The sea under Kashiwa-shima Island ohashi(bridge) was beautiful in emerald green.